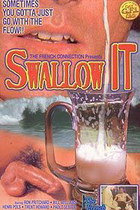 Swallow It
Year: 1986
Director: Enrico Colombo
Starring: Bud Wallace, Casey Donovan, Charles Black, Corrado Quinto, Daniel Holt, David Mann
Description: Cheers, and fill me up again and again. I just can't swallow it fast enough! Sometimes you gotta just go with the flow... The French Connection and Cream of the Crop have done it again. They've uncovered a classic masterpiece about the one subject we all want to experience: a no-holes-barred, non-stop fuckfest splattered by torrents of spewing jizz! Thirsty hunks lapping up every precious still-warm drop. Awesome!